by kalyani10
Who doesn't dream of being romanced in style – with holidays in private islands and your very own jet to whiz around the world? However if you are looking for a partner who comes loaded with the greenbacks, the most important thing is perhaps to frequent the right places where you can meet the rich and the single. Here are a few tips on how to date some of the richest people in USA.

TIP: Millionaire Match specializes in matchmaking between the richest people and those wanting to date them. Most of their members are from USA and Europe.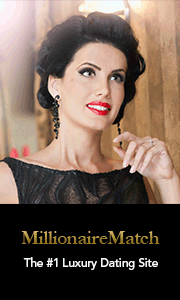 The geography of wealth.

In United States, the region to focus on is the East Coast which according to a Forbes survey dominates the list of twenty-five of the country's richest counties for the calendar year 2008. Interestingly it is the suburbs where the highest median incomes are found as opposed to the cosmopolitan city centers. While Loudon County, Va. tops the list with an annual median income of $110,643, other suburbs of Washington D.C which figure pretty high on the richest counties list are Fairfax County, Arlington County, Stafford County, Prince William County and Alexandria City in the state of Virginia as well as Charles County in Md. Among other rich counties in America are Santa Clara County and Marin County which profit from California's health and technology industries while those from the South like Williamson County in Tennessee and Forsyth County in Georgia are the few beneficiaries of big city growth industries. The richest counties which lie in the suburbs of New York City like Nassau County, Putnam County, and Suffolk County all in the state of New York as well as Hunterdon County, Somerset County and Morris County all in New Jersey owe their wealth to NYC's financial industry. But owing to Wall Street collapse in the latest recession, many of the richest families in New York City as well as its suburbs may no longer be drawing the fattest paychecks. On the whole, once you know where the richest Americans live, you can concentrate on establishing your social network in those areas and hope to come across some really rich singles.

Do your homework.

Finding a date from among the richest singles of the country calls for meticulous planning on your side. One of the best ways to do this is to know who the top earners in the economy are so that you are not deceived by a guy who drives a Mercedes Benz but is vague about his profession. According to statistics compiled by the U.S Department of Labor, among the twenty highest earning professional groups in the country are physicians, lawyers, Chief Executive Officers, financial managers, nuclear engineers, physicists, economists and software publishers. Physicians in America are perhaps the highest paid occupational group even though there may be wide variations with respect to specialization and area of practice. 2003 Statistics from the US Department of Labor reveal that the average salary of general and family practitioner in the USA is $139,640 a year while an anesthesiologist on an average makes around $184,880 a year and in case of a surgeon this may go up to $400,000 a year . According to the same statistical source, median annual salary of chief executives in May 2008 was $158,560 even though the actual earnings were determined by the level of responsibility and the profitability of the company. This is why some managers in America may earn more than $1 million annually.

Frequent places of business.

Now that you know who to look for, start frequenting the places where the richest singles are likely to be found like banks, convention centers or upscale coffee shops in business districts or near hospitals and lawyers' chambers. Here they may be busy with work but wait for lunch hours or coffee breaks to chat them up and if you are lucky you may just land yourself a date on Saturday night.

Look at high-end recreational centers.

Even the rich and successful need to chill out now and then. Such people are most likely to patronize exclusive clubs, upscale sports bars, fashionable pubs or luxury spa resorts. If you find entry to these venues too expensive, try to arrive as a rich friend's guest or wait for events where you can act as a volunteer. The timing is also crucial. It would not make sense to hang around a classy pub during peak working class, waiting for a rich single to make an appearance. Rather late evenings, especially at the start of a weekend may see its regular patrons arrive, ready to socialize. The great advantage that these places have over business venues is that people are more relaxed here and thus more open to meet someone interesting and attractive.

Keep up with lifestyle events.

The rich not only work hard to earn those millions but also like to play hard. So keep up to date with fashionable lifestyle events in your city or locality where the rich and single are likely to congregate. Such events could range from high-profile art auctions to charity dinners and fund-raising galas. And even though you may find the men and women all arrive with partners at these $500-a-plate dinners, many of them will be partners just for the evening. So go ahead and chat up the lady with the emerald on her ring the size of an ostrich egg and who knows you just might end up with an invitation to her penthouse over the weekend.

Make use of professional matchmaking services.

These may range from personalized service providers to millionaire dating websites. You can sign up with any of these services and express your intention of meeting dates who are rich and successful. The only catch here is that that a potential date would have his/her own checklist of desirable attributes in a partner and would only agree to meet if you match those.

Put your best foot forward.

Remember that the richest singles of the land are used to socializing with the smartest and most attractive people. If you are to stand out in the crowd, you need to appear your best. However this is not just about looking sexy or wearing expensive clothes. After catching the attention of a rich suitor, you would also need to hold it down and here your best bet lies in cultivating a brilliant mind or an irresistible personality.