by kalyani10
Known more for its tropical beauty than for its economic prowess, Jamaica is an island nation in the Caribbean Sea. Miles of lovely beaches and its vibrant culture especially music beckons visitors from across the world who like to relax or have a good time. If you are among these but also wish to enjoy life in the company of the rich and wealthy, here are a few tips on getting yourself an eligible date in Jamaica.

Mix business and pleasure

Located in the midst of the Caribbean Sea, Jamaica is blessed with natural beauty. Its sun-kissed beaches are particularly popular with tourists especially those like the Doctor's Cove Beach Club and the waterfronts of Negril. However if you are looking to meet the wealthier visitors head for the Montego Bay which has premium golf courses, health resorts and luxury hotels all to attract the well-heeled visitors. Enthusiasts of nature would also be attracted by the Blue Lagoon with its enigmatic many-hued waters as well as the picturesque Dunn's River Falls in Ocho Rios. The secret to meeting successful dates is to keep an eye out for those who seem to frequent the most expensive places to stay, dine as well as most luxurious ways to travel. When in Jamaica drop into hotels like the Iberostar Rose Hall, the Sunset Beach Resort at Montego Bay, the Club Hotel Riu in Negril or the Bosobel Beach Resort . You could hang out at the bar or sample a dessert from the patisserie and if lucky, you may even have a wealthy guest seek permission to join you. Another way to come into notice of rich visitors is to frequent the exclusive clubs like the Cinnamon Hill Golf Club in Montego Bay or the Royal Decameron Club on Runaway Bay. The seafront of the most beautiful locations like Discovery Bay and the Silver Sands Estates on the northern coast of Jamaica also have several luxury villas which are periodically taken by wealthy vacationers from around the world. Try to frequent the cafes, boutiques and even beaches in these areas so that you become a familiar face and it would only be a matter of time before you find an opportunity to strike up a conversation with a rich resident. However even as you mix business with pleasure, don't discount the potential for finding rich dates within the local population. Tourism is the largest foreign exchange earner and this implies that some of the most successful guys in the country are involved in the hospitality business. So watch out for the single tour managers, guides, chefs, adventure sports experts and also executives with travel companies who could offer some luxurious socializing as well.
TIP: Millionaire Match has many single millionaire men from Jamaica looking for women to date and marry.

Get to know the rich businessmen

Every country of note has its own set of thriving entrepreneurs. In Jamaica, the major exports are agricultural products like sugar, bananas, coffee, rum and yams. Apart from this, the country is also the fifth largest exporter of bauxite in the world, behind Australia, China, Brazil and Guinea. So when in Jamaica, look out for its singles who are making money in these businesses. In Jamaica, downtown Kingston is where most of the businesses and commercial offices are located. Apart from this many multinational conglomerates and financial institutions are headquartered in and around the Kingston Metropolitan Area. So make it a point to frequent the cafes and hang outs in Kingston's new Business District or drop in at the many business hotels and convention centers in these areas. All this will put you in touch with upcoming entrepreneurs as well as successful businessmen and who knows, you may even find a suitable single among them.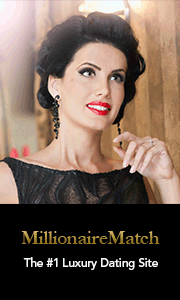 Live it up
Jamaica is known all over the world for its culture of music and indeed this is the birthplace of various forms like reggae, ska and rap; thus is no wonder that Jamaica has a one of the most happening nightlife in the region with nightclubs and bars playing music and inviting guests to groove to the rhythms. However in order to meet the crème de la crème of its population, you need to frequent the upscale nightspots and one of these is the Quad. This is a multi-faceted club catering to lovers of all kinds of music – be it Jazz, Disco or Trance. Then there is Pier One on the Montego Marina which is as much famous for its waterfront location as for its varied choice in drinks and entrees. However if you are looking for a more select ambience which feature only exclusive guests, head for the Redbones Blues Café, secluded spot in the heart of New Kingston. Along with a fully stocked bar, the place offers its guest the best in contemporary-Jamaican cuisine. As the name implies, jazz and blues is the music of choice. The cosmopolitan setting is complete with an on-going art exhibition, and gift shop. Sports enthusiasts from the upper echelons of Jamaican society are likely to hang out at the Cuddy'z Ultimate Sports Bar – owned by former West Indian cricketer Courtney A Walsh, no less – while those interested in live entertainment can be found heading for the Coral Cliff which is reputed as the Hip Strip's hottest destination.
Meet millionaire men at

Frequent the wealthy neighborhoods

For all its natural beauty and vibrant culture, Jamaica is a land of economic extremes and this is noticeable in its neighborhoods. The majority of the wealthy residents of Jamaica live n the suburbs of Kingston like Cherry Gardens, Arcadia Gardens, and Forest Hills. Along with this some premium residential locations are found along the northern coasts in areas like Montego Bay, Negril and Ocho Rios , all of which are major tourist destinations as well. So make it a point to frequent the shops, cafes and recreational spots of the affluent neighborhoods and once you become a familiar face, you will find it easier to strike up a conversation with their wealthy inhabitants.